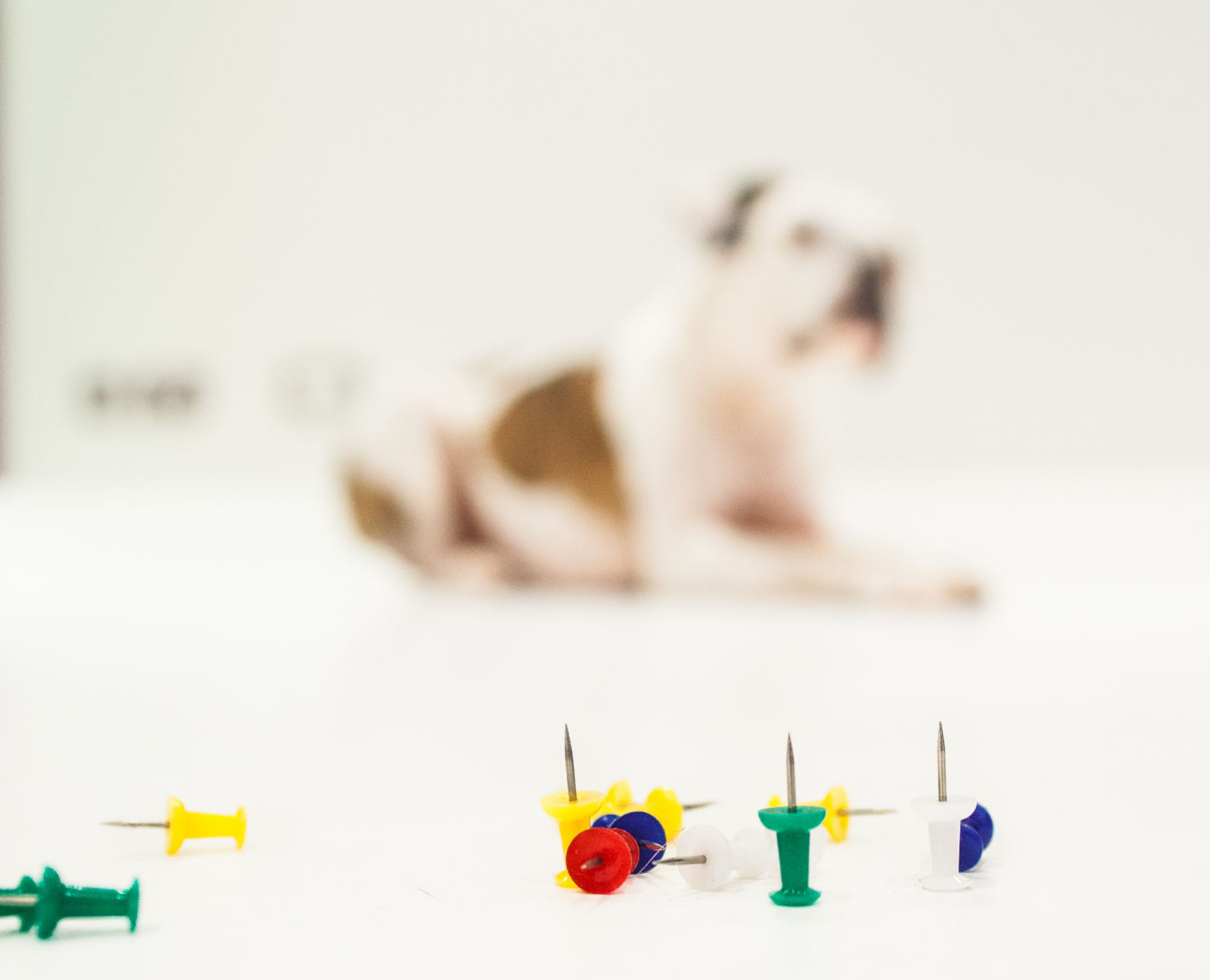 Unfortunately, it is quite common for dogs to tread on sharp objects and for them to become embedded in the pads of their paws. Splinters and thorns should ideally be carefully removed as quickly as possible. However, it is really important you know how to do this safely and when it's better to seek veterinary attention.
How to remove thorns or splinters from your pet's paw:
Clean the area with warm soapy water.
Using a pair of clean tweezers, grip the splinter close to the skin and gently pull the splinter or thorn out at the same angle it appears to have entered.
Gently squeeze around the wound to encourage a little bleeding and ensure that the object has been completely expelled and there is nothing further remaining. Clean the wound once more and then cover with a breathable sterile dressing.
If the thorn or splinter is embedded in a joint it should only be removed by a vet, as it is possible that the joint capsule may have been damaged and this could lead to serious infection within the joint.
What if there is glass in the wound?
If you suspect that there is a glass in the wound, do not attempt to remove it. Your pet may need an x-ray so the vet can establish the size of the glass and ensure it hasn't penetrated anything important.
Embedded Objects
If there is a wound with something embedded in it, you should not remove the object. The foreign body may well have caused damage on the way in and could cause further damage on removal. The object is also likely be stemming bleeding.
Apply pressure without pushing on the embedded object.
Use a rolled cloth, triangular bandage or two rolled bandages to make a doughnut ring. Use it to apply pressure over the wound without pushing the object further in.
Call the vet.
Pad above the embedded object using rolled bandages. Bandage over the pads and wound to prevent the object getting knocked on the way to the vet's.

About us
Written by Emma Hammett for First Aid for Life
Award-winning first aid training tailored to your needs
It is strongly advised that you attend a practical First Aid for Pets course or take our online course to understand what to do in a medical emergency. Please visit https://firstaidforlife.org.uk, https://www.firstaidforpets.net  or call 0208 675 4036 for more information about our courses.
First Aid for Life is a multi-award-winning, fully regulated first aid training provider. Our trainers are highly experienced medical, health and emergency services professionals. They will tailor the training to your needs. Courses for groups or individuals at our venue or yours.
First Aid for Pets provides this information for guidance. It is not in any way a substitute for veterinary advice. The author does not accept any liability or responsibility for any inaccuracies or for any mistreatment or misdiagnosis of any person or animal, however caused.